Q & A
For latest news or rule changes please go to our FB page Clash at the Colisium and the current changes will
be noted at the top of the page. If you have a question Text Tammy at 636-448-9111
Indoor Series
The National Equestrian Center (MO)
Promoters: Kevin & Tammy Gundaker
Event Info: 636-448-9111 (Text)
Location:
The National Equestrian Center
6880 Lake St. Louis Blvd
Lake St. Louis, MO 63367
Race Dates:
Dec 11-13, 2020
Jan 8-10, 2021
Jan 22-24, 2021
Feb 12-14, 2021
Feb 26-18, 2021
PPV – LIVE Streamed Flo Racing (All events)
Classes: (Quartermidgets/Karts/Outlaw Karts)
Quarter Midgets – USAC Rules
Rookie – 250 (Red Plate Age 5-12)
Jr. Honda – 250 (Age 5-8)
Sr. Honda – 290 (Age 9-16)
Go Karts
Kid Karts –50cc engine
Rookie Junior Clone A (Red Plate Age 5-7)
Jr 1 – Green Plate – 265 (Age 8-12)
Jr 2 – Blue Plate – 300 (Age 13-15)
Clone Medium – 350
Clone Heavy – 375
Clone Super Heavy – 400
Predator Jr – 212 cc – 250
Predator 212 cc – 375
RWYB – Run What You Brung – NO Weight
Outlaw Karts
Winged Intermediate – 420
Winged Open Outlaw Kart – 450
LO206 – 300
Restricted Box Stock – Min 275
Box Stock Wing – Clone BP (English Creek Rules)
Entry Fees Each Day Sat/Sun – Payout Sat/Sun
Payouts/Trophies will be done nightly after the races
Guaranteed Money Classes: Saturday's (As of Jan 22)
Entry Fees: Paid Each day at Pill Draw
Event Format:
Friday's – Indoor Parking Move-In 1:00 – Open Practice 6pm-9pm
Saturday & Sunday – Complete Shows both days (Hot Laps, 1 Heat, Semi & Features)
Transponders: $5 Fee per class (Kart & Wing classes run Transponders)
Raceday – is a separate show you do not need to be their both days
Point Races – will only be on Saturday
RaceCeiver's will be Mandatory for Quarter Midgets & Outlaw Karts
RaceCeiver default: 454.000
Building Location For Races:
Arena B
140' x 225'
Indoor Parking Area: 10×10 spots – Must unload (NO Trailers Inside)
Connected to the Arena B
60' x 225'
May have 10×10 Tents
Reserve Indoor Parking: (Must unload/No Trailer's Indoors)
First come basis
$40 for the weekend includes all 3 days Fri/Sat/Sun
10 x 10 spot
Questions: Text Tammy at 636-448-9111
Paypal tgundaker@yahoo.com
MUST DO FRIENDS AND FAMILY
Include:
First & Last Name
Class
Phone #
(If you want to park together with other team please some together if possible)
Electric Hookup Reservations –
(60) 30 Amp and 3 (50) Amp RV hook-ups available
Electric is available through The Equestrian Center.
Teams need to call the office and ask for Tracy. When
Booking ask for the closest spot for the East Arena – Indoor Racing Series
Contact: Tracy – Office: 636-561-8080
Credit Card will not be charged until you arrive
Building Information:
Building – Heat & Air
Ventilated – Great Lighting
Track Surface great
Full Concessions – Inside
Restrooms – Inside
Seating – Bleachers
Lawn Chairs – Families welcome to bring Lawn Chairs also
Directions: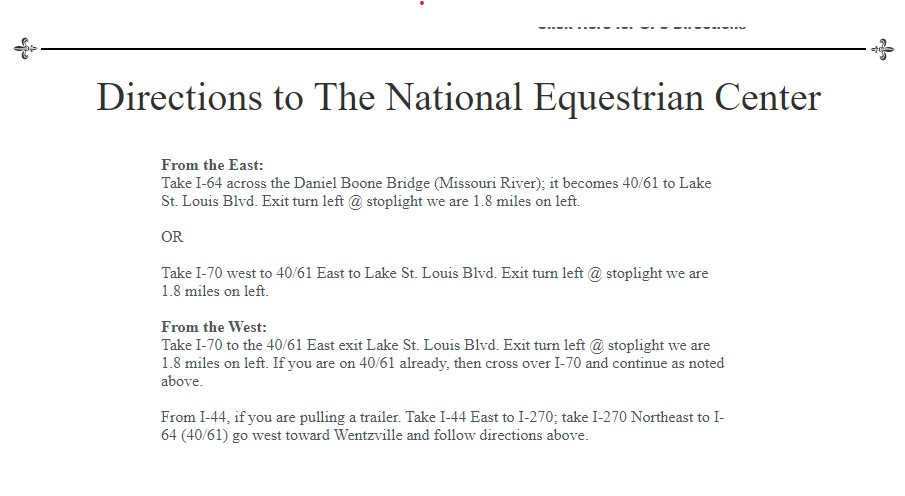 Site Map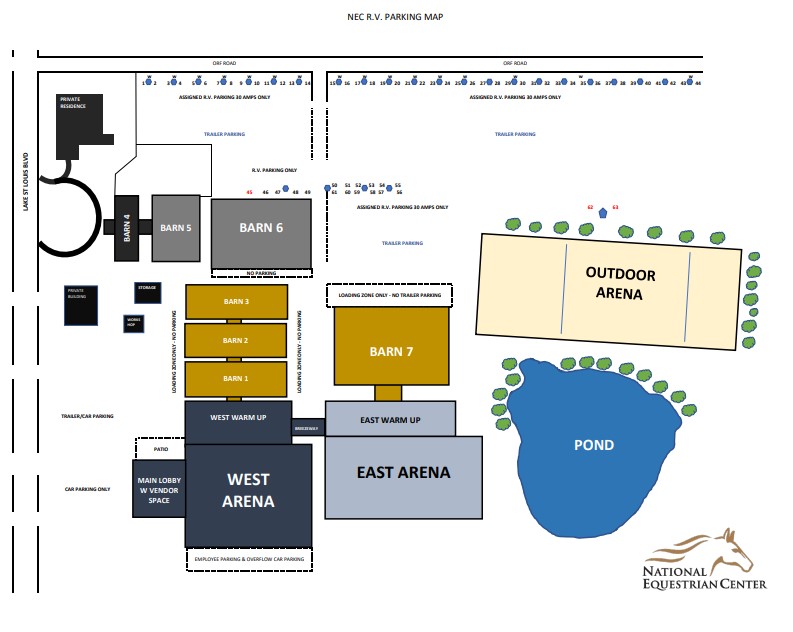 Hotel Discount – When booking mention The Equestrian Center Indoor Racing Series
Hilton Garden Inn
When Booking: Mention Winter Indoor Series – The Equestrian Center
2310 Technology Dr
O'Fallon, MO 53368
636-625-2700
Holiday Inn Express & Suites
When Booking: Mention Winter Indoor Series – The Equestrian Center
1175 Technology Dr
O'Fallon, MO 63368
636-300-4844
Vendors Welcome:
$100 for the weekend (Fri/Sat/Sun)
Space available inside – Must provide own Table & Chairs
General Information
Masks – Are not required
Capacity – No Limitations on attendance
Concessions – Full Concessions/Beer Stand – Located inside next to the track
Restrooms – Located inside next to the track
Seating – There are Bleachers to sit on/May also bring lawn chairs
Campfires RV Area – Campfires are NOT allowed – Grilling is allowed
Alcohol in the RV Area – Yes, is allowed. Clean up all areas
Trash – All Trash must be picked up and taken care of
ATV/Bikes/Any Motor Vehicle – MUST BE 16 or older (No exceptions)
Class Rules: (Quartermidgets/Karts/Outlaw Karts)
Tire Rule – Open Tire Rule
Flat Karts run Slicks Only
Outlaw Karts – Tread Only D50 or Harder on the RR
Quartermidgets – May run Treads for the Indoor Series
Fuel
ALL CLASSES EXCEPT OPEN, INTERMEDIATE, RYWB & QUARTERMMIDGETS.
Make sure you get the CORRECT Fuel.
Quick Trip located on Hwy N – 2 miles from The Equestrian Center.
Address: 8334 Hwy N, Lake St. Louis, MO 63367
will be thee official Fuel stop for the clone/LO206 classes. 87 octane only!
Quarter Midgets – USAC Rules (With the exception of the charge rule we will not be
using the charge rule – based on stock car rules) May run Treaded Tires for the Indoor
Clone – AKRA or NKA Declare at Tech
Predator – (Adult & Jr)
Predator 212 Slick's Series Rules
Series: Predator 212cc Slick's
Class: (A State issued I.D. or copy of Birth Certificate will be required for anyone
under the age of 18.)
1. Junior (7-15)
2. Adult (16 and above) – Clash at the Coliseum will run 1 Predator Class – Weight
375
Divisions: (If we have a large car count in the Predator Class we will split the
class Div 1/Div 2
1. Division 1 (Light)
2. Division 2 (Heavy)
Engine:
1. Harbor Freight Predator 6.5h.p. 212cc
2. Must be Box-Stock with the following specified exceptions/inclusions:
a. May run aftermarket header/muffler.
b. May run different spark plug.
c. Governor screw near throttle linkage may be removed; however, all
throttle springs must remain in place and may not be manipulated in any
way as to circumvent the governor itself. You may NOT remove or tamper
with the governor under the fuel tank in any way. The tech Official has full
authority and discretion to DQ you for anything he sees unfit in this area.
d. Must be properly sealed by Tech or designated Official. If seal is tampered
with or altered as determined by tech official, then you will be DQ'd for
the night. Any points for that night will be forfeited. Corrective action as
determined by Tech Official must be completed before you are allowed to
race again at this track. ALL DECISIONS ARE FINAL as determined by Tech
Official. Seal numbers will be recorded and must match our records. If
your seal number does not match our records, you are DQ'd. NO
EXCEPTIONS!
e. No machining of Piston and rings.
f. Clone-style chain guard must be installed
g. Drum clutch only. No adjustable clutches.
h. Cylinder Head must be OEM casting only. No alterations such as Porting,
Grinding or polishing allowed! NO EXCEPTIONS!
i. No machining of Block allowed! NO EXCEPTIONS!
j. Carburetor requirements: Must be box-stock. Stock jets only. No drilling
of stock jets allowed. No other alterations to carburetor allowed. NO
EXCEPTIONS!
k. Valve Springs must be unaltered and box stock.
l. Ignition System may not be altered other than disconnecting the Low Oil
Sensor. Since removal of the crank cover is necessary to remove the oil
sensor itself, this is not allowed.
m. Flywheel: must be stock including plastic fins. No altering of the flywheel
itself. Offset flywheel keys ARE NOT PERMITTED.
n. Connecting Rod: must be box-stock. No polishing or machining allowed.
Stock rod bolts only! NO EXCPETIONS!
o. Crankshaft: must be box-stock. Machining, polishing, addition/deletion of
material and any other alteration of the crankshaft are prohibited. NO
EXCEPTIONS!
p. Fuel Cap may be drilled/vented. Must run safety chain or cap must be
secured with suitable tape (as deemed by tech official). Aftermarket fuel
caps are not allowed at this time. This is a safety issue and will be treated
as such. Any attempt to circumvent a safety issue will be grounds for
immediate disqualification from the event.
q. All Emissions hoses/tubes must be present and attached properly with the
exception of the vented port on top of tank (if unclear what this means,
ask tech inspector for clarification). This may be disconnected but must
remain present.
r. Drilling or modification of the air box is PROHIBITED!
3. Claim or Protest Procedures:
a. Any registered Owner or Driver in this class on the night of the event, may
claim your engine at IMMEDIATE CONCLUSION OF THE FEATURE EVENT.
Header, Spark Plug, Clutch, throttle linkage and chain guard are not
subject to claim and must be removed before turning engine over to
claimant.
b. Cost to claim is $130.00 with $10 going to the Racing Series and $120.00
to the Owner of claimed engine. Yes, this does not cover the regular cost
of the engine which is regular price of $129.99 at Harbor Freight.
However, it is understood that this engine can typically be bought on sale
for $99.99. This is by design to further deter your chances of doing
anything that could get your engine claimed.
c. Claimed engine may be used by claimant on their kart in future events,
however, if original seals are not intact, this engine will be blackballed
from competition (serial number and seal numbers shall be
recorded/verified by Track Official at time of claim BEFORE engine
changes hands).
d. Any Owner/Driver that refuses a claim may not return for two consecutive
scheduled events. The driver may not race a different kart for that time
period and that kart will not be allowed with a different driver, even if
engine was replaced. NO EXCEPTIONS!
e. Protest rules are covered in the General Rules for the Clash at the
Coliseum Racing Series in a separate attachment.
Fuel:
• Unleaded Pump gasoline only! (no more than 93 octane)
NOTE: E-85, Alcohol or Racing Fuels ARE NOT ALLOWED! NO
EXCEPTIONS!
Weight:
1. Adult: (Predator)
Clash at the Coliseum – Equestrian 375 lb min with driver -If large car
count we will split the class
a. Division 1 – 350 lb min. with driver.
b. Division 2 – 400 lb min. with driver.
2. Junior:
a. 250 lb min. with driver.
• All added weight must be securely fastened. All weights should be painted
white with kart number clearly marked.
• Driver must register in the Division that he/she wants to compete in for the
Racing Series.
• Division changes cannot be made once lineups are posted.
• Driver may only run in one Division or Class of a particular Series.
• Kart may be entered in opposite division or class (in same Series) by a
different driver provided weight requirements are met for each driver in each
division.
Body/Numbers/Number Panels:
• Each entry shall have 4 numbers on the kart at all times. One on each side
panel, one on front of kart and one visible from the rear of the kart. Numbers
are limited to four digits. One letter may be used but will count against the four
digits and must accompany at least one number.
• Numbers must be contrasting (or easily read) by the track scorer. The track
scorer has sole discretion as to whether or not your numbers are acceptable.
• If a kart enters the track without the proper changes to address Scorer's
concerns, you will not be scored and may be removed from the event.
Rear Bumper:
• Rear Bumper should extend to AT LEAST the center of rear tires. It is suggested
that you move your rear tires to the widest point that you could possibly run
them in an effort to find the center.
• Tech Official has sole discretion to approve your rear bumper width at any time.
• This is a safety issue and will be treated as such. Any attempt to circumvent a
safety issue will be grounds for immediate disqualification from the event.
Tires:
• Slick tires only. No grooving, siping, or cutting allowed.
• Tire Prep is allowed.
NOTE: Penalties for violating any of the above rules are covered in the General Track
rules. In the event that the General Rules conflict with this document, Tech Official will
have final say. If Tech Official is not available on any given night, then decisions will be
made by Competition Directors in which there are two. In the event of a tie vote
between the competition directors, Track Promoter will break tie.
***ALL OTHER COMPETITION RULES MAY BE FOUND IN THE GENERAL RULES FOR the
"Clash at the Coliseum" Racing Series. ALL RULES WILL BE ADHERED TO!
ANYTHING NOT SPECIFICALLY COVERED IN SERIES/CLASS/DIVISION RULES AND NOT
ADDRESSED IN THE GENERAL RULES SHALL BE DEEMED AS ILLEGAL/NOT
PERMITTED/PROHIBITED. (See General Rules for more information.)
Outlaw Karts –
LO206/Box Stock Outlaw Karts
Outlaw Karts –
LO206/Box Stock Outlaw Karts
250 Winged Intermediate Outlaw Karts – Winged Open Outlaw Karts
We are running St. Genevieve Rules
The Clone Motor will be allowed – BP is allowd as of Jan 22, 2021
Tires – All Wing Classes will be Treaded Tires Only
250 Winged Intermediate Outlaw Karts – Winged Open Outlaw Karts
● 206 will be running the 2019 Briggs and Stratton 206 Outlaw rules until further
notice, check their website out for the rules (2020 Rules have not been released yet
from Briggs)
● You may run any tires in the 206 Kart classes only
● 206 CLASSES have an open-air filter
● Intermediate & Open may run any tires, except you MUST RUN A D50 & ABOVE on
right rear
● It is mandatory that racers have a fire suit, full face helmet, racing shoes/boots, neck
brace and arm restraints, IN ALL KART CLASSES
● At the age of 14 and older you must move up to a different class
● The 206 Kart class only has $50 protest rule, $10 of it goes to the track the other $40
goes to the driver of the kart. The rules highlighted in pink will be what they will be
protesting on. If you protest another kart you must do so within 15 minutes after the
feature race. You must have cash in hand when you protest. If the kart that has been
protested refuses to tear down, they will lose their points for 2 races. This is only for
the 206 Kart class.
● The 206 Karts must weigh 300 lbs. with driver
● The 250 Intermediate Outlaw class must weigh 420 lbs. with driver
● The Outlaw class must weigh 450 lbs. with driver
● If the 250 wants to run with the Open class, the 250 must weigh 450 lbs. to race
● 206 Beginners Outlaw Cage Karts Class is ages 5-8 yrs with less than 2 year's
experience
● 206 Outlaw Cage Karts Class ages 7-14 is intermediate class
***KART CLASS AGES SUBJECT TO CHANGE DUE TO EXPERIENCE***
206 Beginners Outlaw Cage Karts will require a carburetor slide for the LO206 class.
With the slider, we recommend running a stock clutch. ➔ Outlaw Class will have no
age limit so can include adults. ➔ 250 & Outlaw Classes will race together depending
on car count. We will split the classes if we have too many cars